Portable nebulizers are similar to inhalers in how they treat respiratory conditions. Both can also be effective, but there are pros and cons to both treatments.
When used improperly, an inhaler can cause you to lose medicine as you try to inhale it, meaning you don't get your full dose each time.
But portable nebulizers provide you with instant relief and they give you an accurate dose of your medication every single time you use it. Plus, a small portable nebulizer machine is not much bigger than an inhaler.
With the TruNeb™ nebulizers, you'll get immediate relief from your respiratory conditions. It is easy to use, easy to clean, and easy to transport.
It works perfectly for infants, kids, and adults. You can choose between a mouthpiece or a mask. The mask comes in both children's and adult sizes.
What is Considered a Respiratory Condition?
Lung disease and other respiratory diseases and illnesses are very common in the United States. For most people, respiratory diseases are either caused by smoking, genetics, or infections.
The most common respiratory conditions that people use portable nebulizers for are COPD, asthma, pneumonia, bronchitis, congestion, and more.
Some lung diseases affect the airways and your trachea (aka your windpipe), while other diseases affect the air sacs (or alveoli) which are your actual lungs.
Lung disease can be chronic, which means that there is no cure but you can use treatment to manage your symptoms. Or they can also be acute like bronchitis or pneumonia.
What Is A Nebulizer?
Medications that you can inhale are effective for respiratory conditions because the medication goes straight to your lungs, rather than going through your gastrointestinal tract first.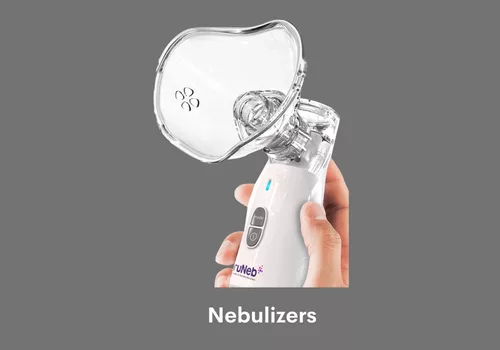 Because of the effectiveness, many doctors will prescribe a liquid medication that you can use in your handheld nebulizer. When you use a nebulizer, the liquid medication dissolves into a mist that you breathe in through the mouthpiece or mask.
Traditionally, jet nebulizers were large, heavy machines that you had to sit next to as you do your treatment. They were difficult to transport and not very convenient to use.
But now patients even have the option of portable nebulizers, which are much more convenient and actually comparable in size to the average inhaler.
Small, pocket-sized nebulizers are the treatment method of choice for people who have busy lifestyles and are always on the go. Portable nebulizers are also great for kids who play sports and need their pocket nebulizer on hand at all times.
How is an Inhaler Different?
Portable nebulizers and inhalers are both small medical devices that allow you to get medication into your lungs quickly when you need it. The most common illness that people use inhalers for is asthma.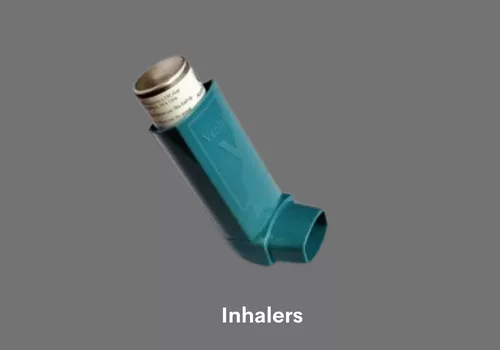 An inhaler isn't as accurate for dosage as a nebulizer because oftentimes you cannot tell when you have lost medication. Loss of medication means that you weren't able to inhale it.
Inhalers are also metered dosage devices; which means that it dispenses the right dose each time you need it. But with a portable nebulizer machine, you can easily pour the medication into the cup and start your treatment. While it is one extra step, the quality of treatment makes it worth it.
Benefits of Using Portable Nebulizers
There are several advantages to using nebulizers instead of inhalers. The first and most obvious is the quality of treatment.
With our small pocket-sized device, you get an accurate dose of your medication every time you use it. The medication goes straight into your lungs, allowing you to breathe better instantly.
Here are just a few of the other benefits of using a portable nebulizer machine.
Helps to Treat All Respiratory Conditions
Nebulizers can help to treat just about any chronic respiratory condition or virus that you have been diagnosed with. These are just a few of the most common ailments that people use nebulizers for.
Allergies
Congestion
COPD
RSV
COVID-19
Pneumonia
Bronchitis
Croup
This is not an exhaustive list of ailments that a nebulizer helps treat. You should ask your medical provider about all your options, including nebulized therapy.
No Noise or Discomfort
Unlike traditional nebulizers that use an air source, portable nebulizer machines deliver a quiet and comfortable treatment.
Good for Both Kids and Adults
Even children will feel comfortable using this pocket-sized nebulizer machine! Your child can choose from a mouthpiece or a children-sized mask for even more convenience and comfortability. The children's mas is designed to fit a smaller face while still providing the most accurate dose of medication.
You Can Use it Anywhere
Use your device outside, at work, at school, or anywhere you need breathing treatment. It's that easy to use! You don't have to plug it in anywhere. It's so easy to just slip it into your purse or backpack, making it accessible anytime you need treatment.
Effective Breathing Treatment
Portable nebulizers offer relief at any time when you need breathing treatment. They are efficient in clearing your airways and the advanced atomization provides the most adequate medication delivery to your lungs.
No Residue
When you use a small portable nebulizer you can rest assured that the device will deliver every last bit of your medication solution. Effective atomization ensures all the medication reaches your lungs.
How Do Portable Nebulizer Machines Work?
As mentioned previously, nebulizers turn liquid medication into a mist that you can breathe in through your lungs.
When you take oral medication, it can take up to 45 minutes to reach your lungs to provide relief. But with a portable mesh nebulizer, you get instant relief that can last hours and hours.
Even with the mouthpiece, it is very difficult to lose the medication. "Losing medication" means that the mist evaporates in the air before you're able to breathe it in. This happens with inhalers more often than it happens with nebulized therapy.
Here are the steps you want to take to use it. While it does take up more time than an inhaler, it works more effectively and still delivers your medication relatively quickly.
First, you need to wash your hands. Then open the nebulizer cup on the top of the device and pour in your prescribed dose of medication or saline.
Install the mask (with the adaptor) or the mouthpiece.
Press the power button to turn the device on.
Breathe in the atomized mist until it's finished. Be sure to keep a tight seal with the mask or mouthpiece over your face or mouth.
Power the device off when the medication is gone and the treatment is finished.
Lastly, you should clean and disinfect your nebulizer following these instructions:
Remove the mouthpiece and any accessories.
Add 6ml of distilled water to the medicine chamber.
Run a full cycle through.
Shake out any remaining drops and allow the device to air dry.
To disinfect your pocket nebulizer, simply repeat these four steps and add 2 to 3 drops of white vinegar to your distilled water and then run a full cycle.
After this solution is nebulized, run one more cycle of just distilled water. Wipe out the medicine cup with distilled water to ensure there is no vinegar residue left over.
Nebulizers vs Inhalers: What's the Difference?
The biggest difference between nebulizers and inhalers is that an inhaler treats fewer respiratory conditions than a nebulizer. Your doctor is more likely to recommend that you use nebulized therapy when you have a virus like bronchitis or pneumonia, but not an inhaler.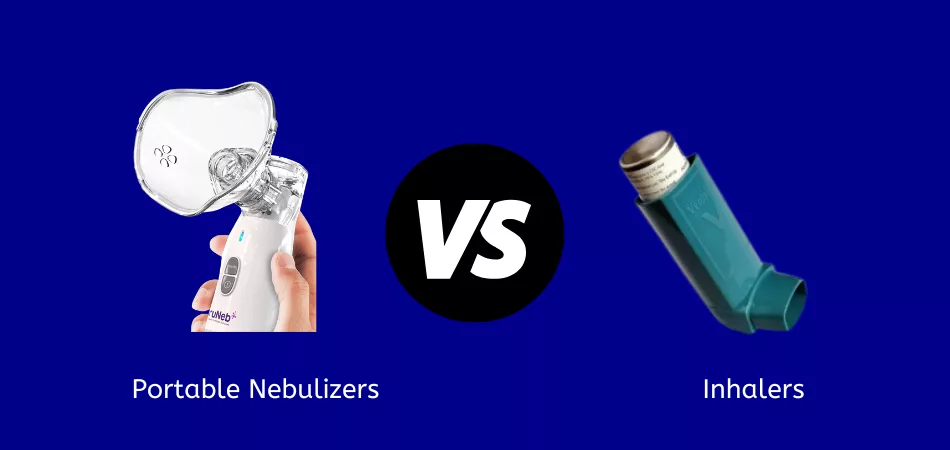 Plus, inhalers require a certain amount of coordination for the medication to reach your lungs, there is a lot of room for error. If you don't use your inhaler correctly, you may not be getting your entire dose of medications.
With a portable nebulizer machine, you simply keep the mouthpiece or mask to your mouth and breathe in the mist. This makes it more difficult to lose the medication, meaning it's a more accurate dose each time you use it.
When you need breathing treatment, your doctor may prescribe both an inhaler and a nebulizer, knowing that the inhaler is quicker, but the nebulizer is more likely to give you an accurate dose.
The biggest downside of nebulization therapy is portability. But, TruNeb™ portable nebulizers fix that issue because of how similar they are to inhalers. Most portable nebulizer machines are just slightly larger than the average inhaler, making it just as convenient to take on the go.
Why Choose the TruNeb™ Portable Nebulizer?
TruNeb™ gives you immediate relief from your worst breathing symptoms. The average time that it takes to finish a TruNeb™ nebulizer treatment is about 5 to 7 minutes. Compare this with the time it takes for other nebulizers (which is up to 15 minutes) and there is no question which option is better.
Our portable nebulizer machine will give you an accurate dose of your medication every single time you use it. With an inhaler, it's nearly impossible to know whether you have gotten an accurate dose of your medication.
We know you will be satisfied with our treatment. Nebulizer treatment has been proven to help with many different illnesses and ailments. We can help with yours!
With our TruNeb™ you never have to guess whether you got an accurate dose of your meds. We guarantee your satisfaction with our nebulizer, or we will give you your money back, no questions asked.