Attention: Scammers recently created two websites that were nearly identical to TruNeb.com – one ending in .co and one ending in .shop. As a result, some of our valued customers unknowingly placed orders to purchase the TruNeb portable nebulizer machine from bad actors who set out to rip them off.
PLEASE TAKE ACTION IMMEDIATELY IF YOU BELIEVE THAT YOU HAVE BEEN A VICTIM
When we discovered the scam, we immediately set to work to have the illegitimate sites taken down. Unfortunately, the process for removing sites is slow. Until the fraudulent sites are no longer live, it is likely that some unsuspecting consumers will attempt to purchase a TruNeb portable nebulizer machine from the wrong site. If you believe that you may have been a victim of this scam, please read the complete details here.
——————

We have owned and operated TruNeb.com for several years, offering customers the best portable nebulizer machines available. Recently, scammers purchased similar domain names (ending in .shop and .co – instead of .com) and set up look-alike sites.
Customers who attempted to purchase a portable nebulizer machine from those sites have gotten scammed. If you believe this could be you, please:
IMMEDIATELY CONTACT YOUR CREDIT CARD COMPANY OR BANK
TO DISPUTE THE TRANSACTION
When we discovered the fake sites, we immediately took action to shut them down and contacted payment providers and online platforms. However, because these fake transactions do not involve our legitimate company, we are unable to do anything to stop the charges to your credit card. Unfortunately, that leaves the burden on our valued customers.
How do I know if I've been scammed?
The illegal websites were intentionally designed to look like ours, so it can be difficult to tell the difference at first glance. (And scammers choose domain suffixes like .co because they are easily confused for legitimate sites.)
Here are a few things that might indicate that you have been scammed:
You know that you purchased a portable nebulizer from a domain ending in .CO or .SHOP.
You have a four-digit order number. (Ours are more.)
You have not received your product in a timely fashion.
You paid a penny more or less than $49.97 before taxes.
You have an order confirmation from truneb.team@gmail.com. (we are info@truneb.com and info@alphabrands.io)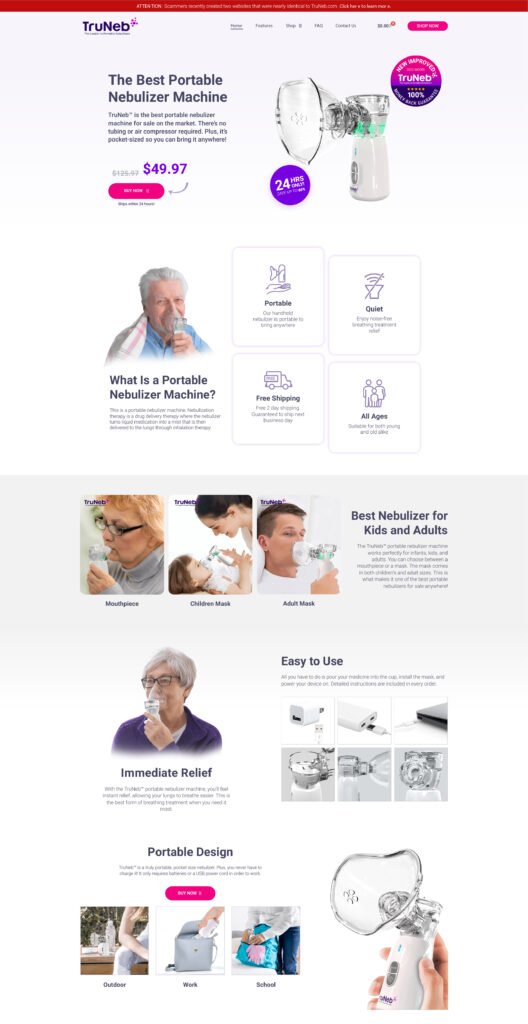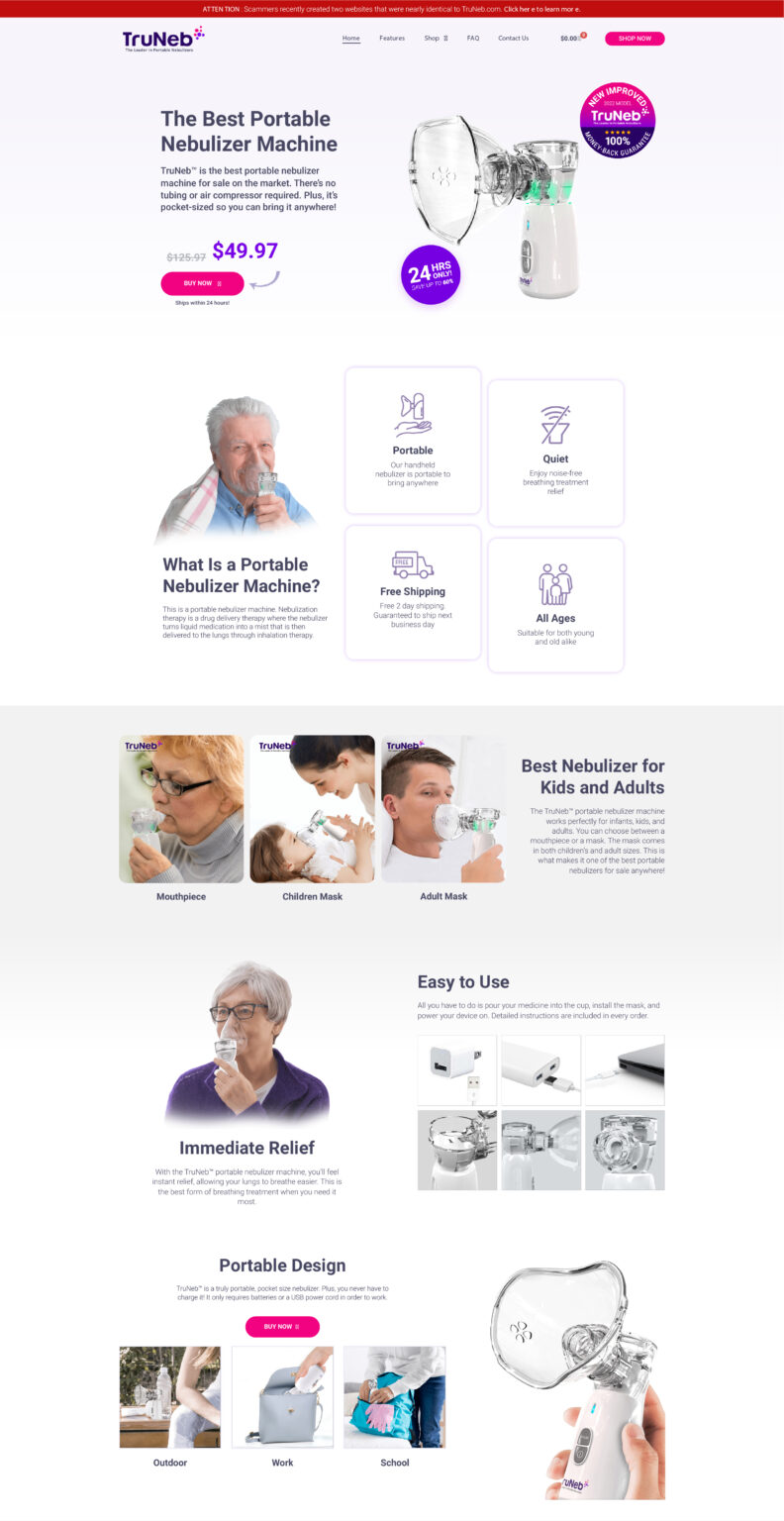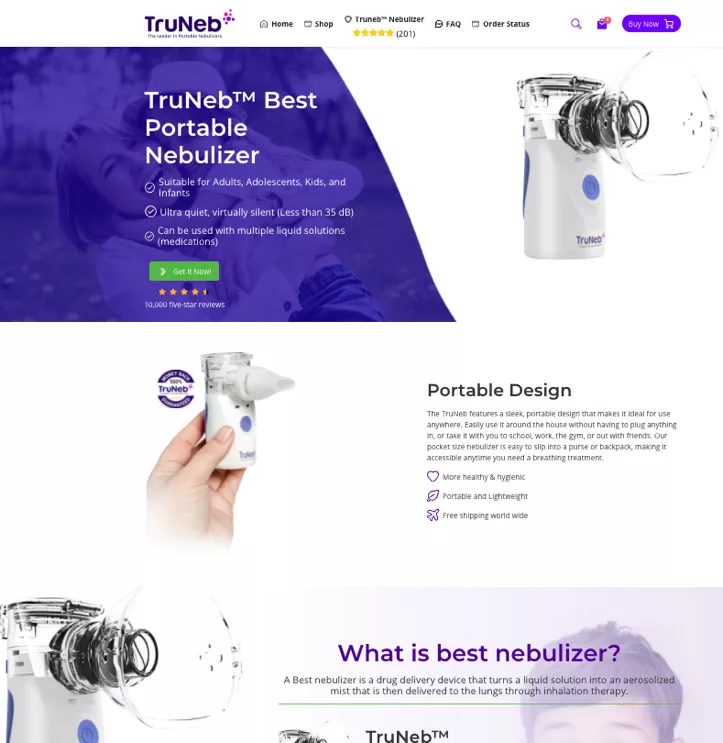 As you can see, the scam site could easily be mistaken for our legitimate site – similar color choices, logo, and even content. Scammers rely on hijacking a brand's image and the trust that the legitimate site has built with its customers. This despicable action causes harm to consumers and the company, but it has proven challenging for authorities to stop the blatant disregard for laws – and basic decency.
That is a situation that we certainly never wanted to be in. We invested resources to ensure that transactions on our site are secure. This unforeseeable attack was not a result of a lack of diligence, but rather a result of unscrupulous characters who set out to cause harm to our customers and our company.
While we understand that the scammers have caused possibly irreparable damage to our reputation, our main concern is with the customers who have gotten ripped off. We take great pride in our quality products, and we know that many of our satisfied customers recommend them to friends and family. It is disheartening to think that those unsuspecting loved ones may come up empty-handed without the nebulizing machine they need.
Please accept our sincere apologies if this incident causes you any inconvenience, and rest assured that we will continue every effort to protect you, our customers, from digital fraud.
Also, please note that we have been forced to temporarily halt incoming calls due to the overwhelming volume. We are incredibly sorry and apologize for the inconvenience. If you have further questions or need more details, please email Info@TruNeb.COM and we will respond as quickly as we are able.