Portable nebulizers are much different than ventilators. There are three major differences in the way the two devices work for your respiratory system.
These are all based on the fact that a ventilator is a machine that breathes for you when you cannot breathe on your own. In addition to the three major differences, a ventilator is also much bigger than a nebulizer machine.
A ventilator requires a process called intubation, where they insert a tube into your airways and the machine breathes for you. This is a much different and more invasive process than using a small portable nebulizer machine for your breathing treatments.
After reading this article, you will be able to talk about the differences between ventilators and nebulizers and realize how different the two machines really are.
About Portable Nebulizer Machines
First, let's discuss what a portable nebulizer is. If you are struggling with respiratory illnesses, nebulizers are one of the most important devices for your breathing treatments.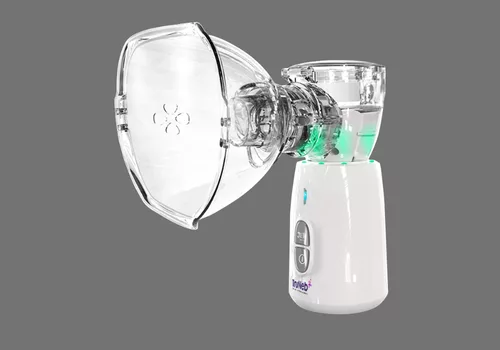 The way it works is that transforms liquid medicine into a mist that can be easily absorbed by the lungs to deliver medication both quickly and effectively.
The TruNeb™ portable nebulizer machine uses advanced mesh technology that creates the finest mist, making it extremely easy to get an accurate dose of your medication every single time.
Small portable nebulizers work just as well as traditional jet nebulizers. Many people compare portable nebulizers to inhalers for getting respiratory relief from a number of different conditions.
However, inhalers can give you a less accurate dosage, causing you to lose your medication and therefore have a less effective treatment.
Benefits of Using Portable Nebulizers
There are several advantages to using a portable nebulizer machine for your breathing treatment. The first and most obvious is the quality.
Even with a small pocket-sized device, like the TruNeb™ you get an accurate dose of your medication every time you use it. The device ensures that your medication goes straight into your lungs, allowing you to breathe better instantly.
Here are just a few of the other benefits of using a portable nebulizer machine.
Treats Many Respiratory Conditions
Portable nebulizers can treat just about any chronic respiratory condition or respiratory virus. These are just a few of the most common ailments that people use nebulizers for.
Asthma
COPD
Allergies
Congestion
RSV
COVID-19
Croup
This is not an exhaustive list of ailments that a nebulizer helps treat. You should ask your medical provider about all your options, including nebulized therapy.
Effective Breathing Treatment
Portable nebulizers are efficient in clearing your airways. The advanced technology used to atomize your medication into a fine mist provides the most accurate dosage delivery to your lungs.
Good for Both Kids and Adults
Your kids will feel comfortable using a small handheld nebulizer. For example, the TruNeb™ actually comes with a children-sized mask that they can use for maximum comfort. The children's mask is designed to fit a smaller face while still providing the most accurate dose of medication.
Use it Anywhere
Use your device outside, at work, at school, or anywhere you need breathing treatment. It's that easy to use! You don't have to plug it in anywhere. It's so easy to just slip it into your purse or backpack, making it accessible anytime you need treatment.
No Leftover Residue
When you use a small portable nebulizer you can rest assured that the device will deliver every last bit of your medication solution. Effective atomization ensures all the medication reaches your lungs.
No Noise, No Discomfort
Unlike traditional nebulizers that use an air source, portable nebulizer machines deliver a quiet and comfortable treatment.
These are just a few of the benefits of using a portable nebulizer machine as a breathing treatment for COPD, asthma, congestion, and more.
Top 3 Biggest Differences Between a Ventilator and Portable Nebulizers
In short, nebulizers are not like ventilators. While they do treat some of the same conditions that you can use a nebulizer for, ventilators treat different severities of those conditions.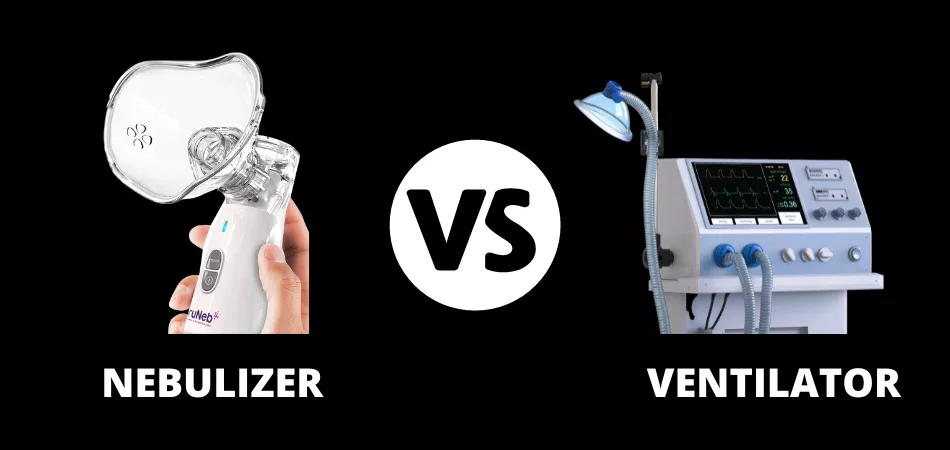 Ventilators are used when the respiratory condition is severe, critical, or life-threatening.
Nebulizers are simply great, effective breathing treatments when you need relief from your respiratory symptoms. Here are the top 3 biggest differences between a portable nebulizer machine and a ventilator.
1. Ventilators Help People Who Cannot Breathe On Their Own
The number one biggest difference between nebulized therapy and a ventilator is that a ventilator helps people when they cannot breathe on their own. Oftentimes, if you need ventilation, you are unconscious and the ventilator is keeping you alive.
If you go on a ventilator, chances are that your condition is critical or life-threatening.
On the other hand, nebulizers work for people who are having difficulty breathing but can breathe on their own without the help of a machine. Nebulizers are used as supplemental breathing treatments, rather than a device that breathes for you.
2. Nebulizers Atomize Medication, Whereas A Ventilator Works Differently
Portable nebulizers use advanced technology to turn your medication into a mist that you breathe in. This allows the medication to go directly to your lungs and airways to open them up and reduce inflammation.
A ventilator actually sends oxygen to a patient's lungs and takes away any carbon dioxide. There is a tube that is attached to your windpipe so that the ventilator can send oxygen directly from the ventilator into your airways and lungs.
3. A patient is usually unconscious while using a ventilator
During the process of ventilation, a patient needs to be sedated. The purpose of the ventilator is to breathe for a patient that cannot breathe on their own.
Because of the severity of the condition of the patient, they are given medication that sedates them during the ventilation process.
Normally they are kept on that medication throughout the entire time they are on a ventilator. Ultimately this depends on their condition and how severe it is.
Of course, to use a nebulizer, you must be awake and conscious because you need to actively breathe in the mist so that it gets into your airways. As you can see, nebulizers are much less invasive breathing treatments than ventilators.
What Makes TruNeb™ The Best Portable Nebulizer?
So why is the TruNeb™ nebulizer the best portable nebulizer machine on the market? Our device is perfect for both kids and adults, making it easier to get your breathing treatments in wherever you need them.
If your child needs a nebulizer at a sports game, school, or while on vacation the TruNeb™ is perfect for them.
This is the most convenient, easy-to-use nebulizer on the market. You simply pour your dose of liquid medication into the medicine cup, turn on the device, and start breathing it into your lungs.
Treatment times are dependent on how much medication you are prescribed, but it generally takes anywhere from five to seven minutes to finish.
When you purchase the TruNeb™, there is no risk involved. If you aren't 100% satisfied with the device, we will refund your money up to 30 days after purchase. We guarantee you will be happy with the results of your TruNeb™ portable nebulizer machine.
Click here to start shopping for the best portable nebulizer!