Nebulizers and inhalers are both effective in getting you the medication that you need. But there are certain situations and scenarios where a portable nebulizer machine works better than an inhaler for your respiratory symptoms.
The effectiveness of an inhaler versus a nebulizer is also dependent on the type of ailment that you have. For example, most people use inhalers for asthma, which is a chronic condition where your airways narrow. But inhalers can be less effective in treating viruses, like bronchitis or pneumonia.
To learn more about nebulizers and how they can be more effective in the treatment of certain illnesses, read our guide. And if you are looking for a portable nebulizer, try the TruNeb™ risk-free.
What Is A Nebulizer?
Inhalation of medications is an effective treatment for pulmonary and non-pulmonary conditions. Because of this, nebulizers are effective in clearing your lungs and airways and have therefore been a commonly prescribed treatment by doctors.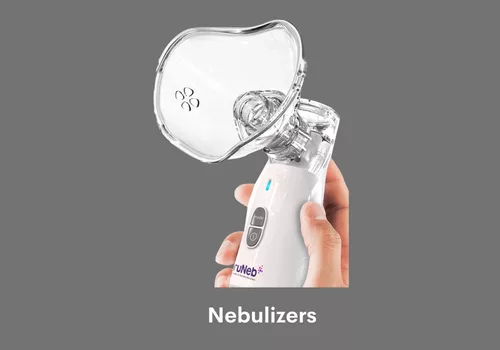 It diagnoses respiratory illnesses like pneumonia and bronchitis, as well as chronic conditions like COPD and asthma.
While portable nebulizers are a relatively new concept, jet nebulizer machines have been a method of breathing treatment for decades. Traditional machines are big and bulky and have to be plugged into an electrical outlet while you are using them.
But now patients even have the option of portable nebulizers, which are much more convenient and actually comparable in size to the average inhaler.
Small, pocket-sized nebulizers are the treatment method of choice for people who have busy lifestyles and are always on the go. Portable nebulizers are also great for kids who play sports and need their nebulizer on hand at all times.
What Is An Inhaler?
An inhaler is a small medical device that allows you to get medication into your lungs quickly when you need it. The most common illness that people use inhalers for is asthma.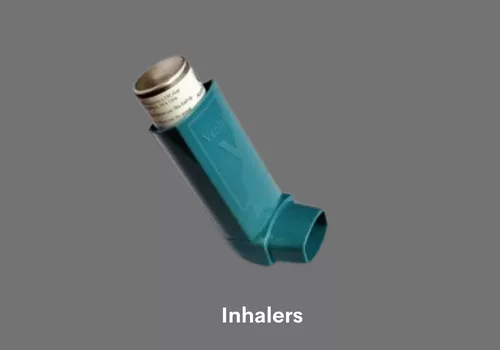 An inhaler isn't as accurate for dosage as a nebulizer because oftentimes you cannot tell when you have lost medication. Loss of medication means that you weren't able to inhale it anywhere.
The biggest advantage of an inhaler is that the medication is already loaded into the device.
With a nebulizer, portable or traditional, you have to pour the medication into a cup. Of course, a portable mesh nebulizer does make it easier, because you can use it anywhere.
What is a Respiratory Condition?
Lung disease and other respiratory diseases and illnesses are very common in the United States. For most people, respiratory diseases are either caused by smoking, genetics, or infections.
Some lung diseases affect the airways and your trachea (aka your windpipe), while other diseases affect the air sacs (or alveoli) which are your actual lungs.
Lung disease can be chronic, which means that there is no cure but you can use treatment to manage your symptoms. Or they can also be acute like bronchitis or pneumonia.
A portable nebulizer machine can help to treat both chronic and acute respiratory diseases. Ask your doctor about the most effective form of nebulizer treatment, and they can prescribe you a medication or saline solution.
Once you have your medication or solution, you can use nebulized therapy to treat your breathing.
Advantages of Using Portable Nebulizers
There are many benefits to using a portable nebulizer. The first and most obvious is the size. The pocket-sized design makes it very easy to transport with you anywhere.
But aside from that, there are many advantages to your health, wellbeing, and comfortability as well.
Effective Breathing Treatment
Portable nebulizers offer relief at any time when you need breathing treatment. They are efficient in clearing your airways and the advanced atomization provides the most adequate medication delivery to your lungs.
Helps Treat All Respiratory Conditions
Your doctor can recommend and prescribe nebulized therapy for just about any chronic respiratory condition or virus that you have been diagnosed with. These are just a few of the most common ailments that people use nebulizers for.
This is not an exhaustive list of ailments that a nebulizer helps treat. You should ask your medical provider about all your options, including nebulized therapy.
Quiet and Comfortable
Unlike traditional nebulizers that use an air source, portable nebulizer machines deliver a quiet and comfortable treatment.
No Residue
When you use a small portable nebulizer you can rest assured that the device will deliver every last bit of your medication solution. Effective atomization ensures all the medication reaches your lungs.
Good for All Ages
Even children will feel comfortable using this pocket-sized nebulizer machine! Your child can choose from a mouthpiece or a children-sized mask for even more convenience and comfortability. The children's mas is designed to fit a smaller face while still providing the most accurate dose of medication.
Use it Anywhere
Use a portable nebulizer outside, at work, at school, or anywhere you need breathing treatment. It's that easy to use! You don't have to plug it in anywhere. It's so easy to just slip it into your purse or backpack, making it accessible anytime you need treatment.
How Do Portable Nebulizer Machines Work?
Handheld nebulizer machines are similar to inhalers in that they create a mist out of the liquid medication for your treatment. These small but powerful devices have a mask or mouthpiece you can use to breathe in your medication.
And because of the design of the mask, your misted medication easily enters your lungs, allowing you to breathe easier even with chronic respiratory illnesses.
Even with the mouthpiece, it is very difficult to lose the medication. "Losing medication" means that the mist evaporates in the air before you're able to breathe it in. This happens with inhalers more often than it happens with nebulized therapy.
Plus, you don't have to plug it in anywhere. As long as you put the correct battery in the device, you can use it anywhere at any time. Once it has the correct batteries, you are ready to use your portable nebulizer.
Here are the steps you want to take to use it. While it does take up more time than an inhaler, it works more effectively and still delivers your medication relatively quickly.
Wash your hands. Then open the nebulizer cup on the top of the device and pour in your prescribed dose of medication or saline.
Install the mask (with the adaptor) or the mouthpiece.
Press the power button to turn the device on.
Breathe in the atomized mist until it's finished. Be sure to keep a tight seal with the mask or mouthpiece over your face or mouth.
Power the device off when the medication is gone and the treatment is finished.
Now you should clean and disinfect your nebulizer following these instructions:
Remove the mouthpiece and any accessories.
Add 6ml of distilled water to the medicine chamber.
Run a full cycle through.
Shake out any remaining drops and allow the device to air dry.
Disinfect your portable nebulizer machine by repeating these steps and adding 2 to 3 drops of white vinegar to your distilled water and then run a full cycle. After this solution is nebulized, run one more cycle of just distilled water. Wipe out the medicine cup with distilled water to ensure there is no vinegar residue left over.
Nebulizers vs. Inhalers: Which One is Better?
The illnesses that you can use an inhaler for a fewer than with a nebulizer. Your doctor is more likely to recommend that you use nebulized therapy when you have a virus like bronchitis or pneumonia.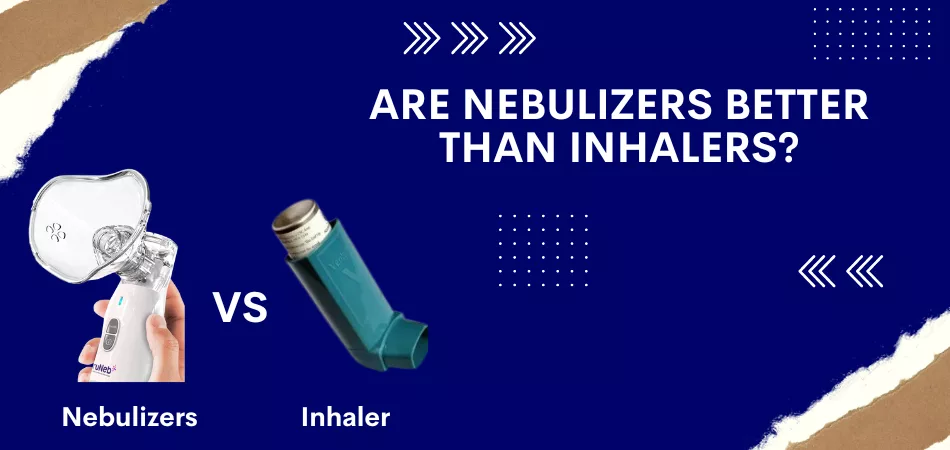 Inhalers also require a certain amount of coordination for the medication to reach your lungs, there is a lot of room for error. If you don't use your inhaler correctly, you may not be getting your entire dose of medications.
With nebulizers, you simply keep the mouthpiece or mask to your mouth and breathe in the mist. Using the mask makes it more difficult to lose the medication, meaning it's a more accurate dose each time you use it.
Your doctor may prescribe both an inhaler and a nebulizer, knowing that the inhaler is quicker, but the nebulizer is more likely to give you an accurate dose.
Also, the biggest downside of nebulization therapy is portability. Portable nebulizers fix that issue because of how similar they are to inhalers. Most portable nebulizer machines are just slightly larger than the average inhaler, making it just as convenient to take on the go.
Why Choose the TruNeb™ Portable Nebulizer?
The TruNeb™ features a sleek, portable design that makes it ideal for use anywhere. Our efficient and advanced atomization provides the most adequate medication delivery to your lungs where it's needed most.
The average time that it takes to finish a TruNeb™ nebulizer treatment is about 5 to 7 minutes. Compare this with the time it takes for other nebulizers (which is up to 15 minutes) and there is no question which option is better.
TruNeb™ portable nebulizers will give you an accurate dose of your medication every single time you use it. With an inhaler, it is impossible to know whether you have gotten an accurate dose of your medication.
When medication gets lost, most patients do not even know it has been lost. They simply think they have gotten their medication or realize that it was lost after they do not feel better.
We know you will love our product. Nebulizer treatment has been proven to help with many different illnesses and ailments. We can help with yours! With our TruNeb™ you never have to guess whether you got an accurate dose of your meds.
Contact us if you have any inquiries about our product. We guarantee your satisfaction with our nebulizer, or we will give you your money back, no questions asked. Order your own nebulizer now!